10 Hopeful Verses for an Uncertain Future
As the calendar year turns to a new year, we hold expectations loosely in our hands. While we hope for a better year, a fresh beginning, and a new opportunity to increase our faith, the heaviness of the past year is real. There are many of us who have suffered loss of family, jobs, and dreams. But God offers hope in the struggle and help on the hardest days. As we look forward into the unknown future, we can also look into God's Word and find hope for the unexpected days that lie ahead.
Here are 10 verses for you to print or pray as you walk through the new year:
1. Heavenly Hope
"And if I go and prepare a place for you, I will come again and receive you to Myself; that where I am, there you may be also" (John 14:3).
The hope we find in this verse is weighty and strong. It's a reminder that not only is there a day coming when Jesus will return for His children, but also the promise that He is preparing a heavenly home right now for all those who put their faith in Him for salvation. This gives the believers heart great help and hope as we look toward unexpected circumstances. No matter what comes our way or what struggles we encounter, one day we will reach our heavenly home and there will be no more pain or sorrow there.
2. Don't Worry
"Therefore do not worry about tomorrow, for tomorrow will worry about its own things. Sufficient for the day is its own trouble" (Matthew 6:34).
Worry is one of the things that burdens a heart and causes the mind to lean toward anxiety, fear, and intimidation. There are questions that swirl in the mind like, "What is going to happen?" "What if?" "What now" "What then?" While these are all valid questions, God's answer is simple. "Do not worry." While we cannot see tomorrow, God can. He already knows.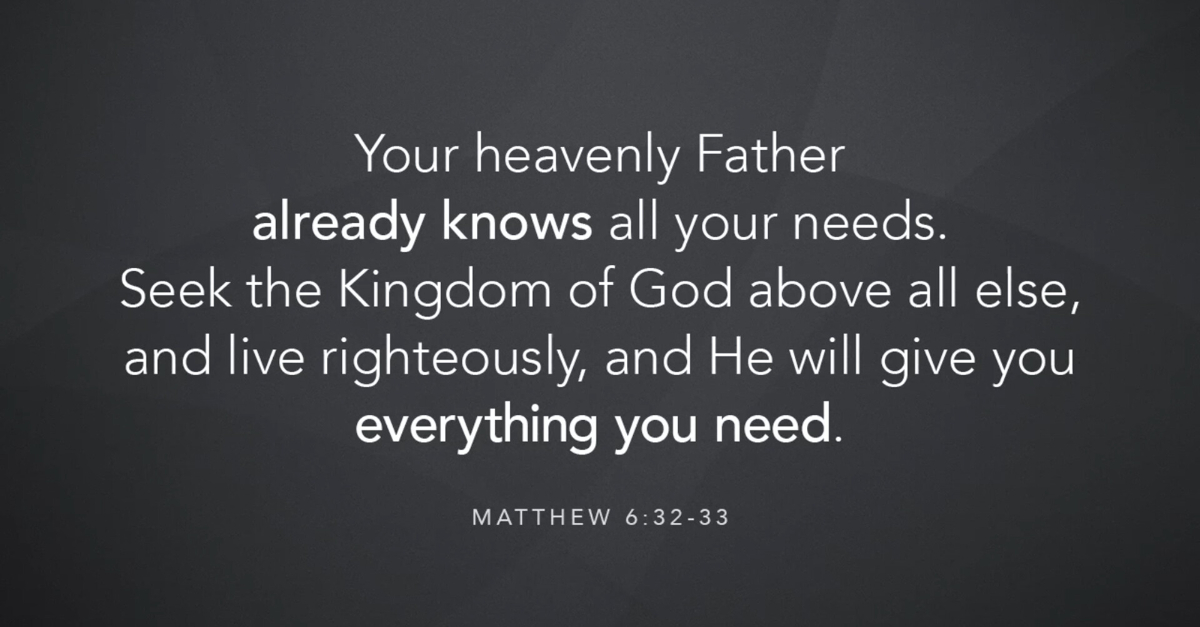 Photo credit: Flickr
3. Pray and Give Thanks
"Be anxious for nothing, but in everything by prayer and supplication, with thanksgiving, let your requests be made known to God" (Philippians 4:6).
Anxiety creeps in or barges in when we least expect it. It's a silent distraction that seems to live everywhere we look. But God's Word gives us an interestingly bold statement about anxiety. The Bible says, "Be anxious for nothing." This is a hard truth to live. While I want to live free from anxiety, unknown circumstances can capture my thoughts and heart swiftly before I even realize it. This idea of not being anxious is tucked in the practice of prayer and thanks. Giving our desires and requests over to God frees the heart from anxiety. While it seems easy to put into words, it is much more difficult to put into practice. The hope we hold is the help of a great big God who hears and answers our requests.
4. God Offers Peace
"And the peace of God, which surpasses all understanding, will guard your hearts and minds through Christ Jesus" (Philippians 4:7).
Here we find the continuation and result of choosing an anxious-for-nothing lifestyle. When we give our difficulties and struggles over to the power of God, He offers peace. This isn't the kind of peace you receive from a long hot shower or a soak in the tub. It's peace deep within that satisfies the mind, the heart, and the soul. What a hope! What a help!
5. Live Anchored in Him
"This hope we have as an anchor of the soul, both sure and steadfast, and which enters the Presence behind the veil" (Hebrews 6:19).
I love the picture here of hope being our anchor. In my book Anchored In, I share the story of how God has tenderly taught me to live an anchored life through the ups and downs and all arounds. Jesus is our hope, our anchor. No matter if our ship of life feels lost at sea or like it's going under, our anchor does not budge. This is a great help for the uncertain times that we see before us. No matter what comes our way or how difficult life looks, still we have an anchor for our soul.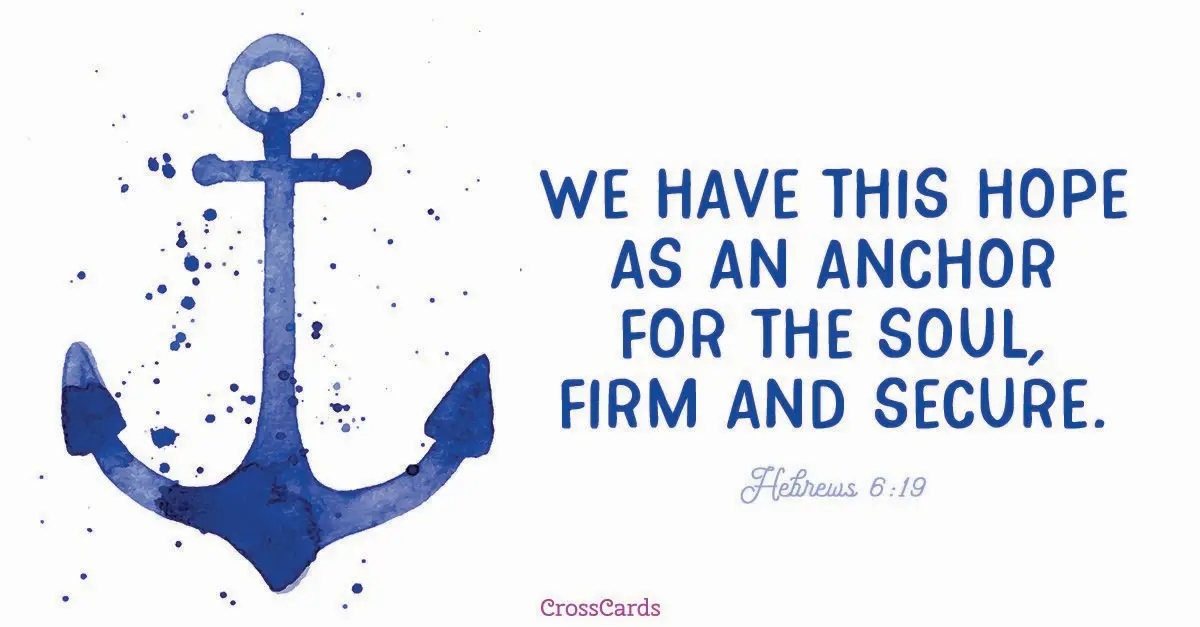 Photo credit: Crosscards.com
6. Surrender and Receive Hope
"Now may the God of hope fill you with all joy and peace in believing, that you may abound in hope by the power of the Holy Spirit" (Romans 15:13).
We do not just have an idea of hope. We have the opportunity to abound in hope. This means we can live fully and freely in the hope God offers us. The key is that we are willing and open to receive it. This takes action to pray and seek God's guidance day by day. It might look like giving your anxiety, your troubled thoughts, and your heart desires over to God's will and way. It's simple and yet it's complicated because we often want to hold onto control. We want to know what to expect and hold tightly until we are forced to let go. This verse is a great reminder to go ahead and let go right up front, for when we do God will fill us. When we don't, we will wrestle with the all the ways we think life should look. Hope is faith in action by saying yes to God.
7. God Sees You
"Through the Lord's mercies we are not consumed, because His compassions fail not" (Lamentations 3:22).
Compassion might be one of the most beautiful things God ever created. It's an emotion and action that says, "I see you and I am willing to help you." This is what God offers us. He sees you. He wants to help you. This hope of knowing God is compassionate without fail is a great gift. Receive it. Live in it. When we do, hope is born and fed and lives in us.
8. Mercy Multiplies
"They are new every morning; Great is Your faithfulness" (Lamentations 3:23).
Not only does God offer compassion, but He offers it day by day. New mercy is yours for the taking. It does not run out. No matter what comes up each day, mercy continues to multiply. Don't get lost in the distractions, the tragedies, and the loss of this world. Get consumed with the compassion and faithfulness of God. That is when you will live and thrive in the hope only God offers.
9. God Knows Exactly What You Need
"Therefore do not be like them. For your Father knows the things you have need of before you ask Him" (Matthew 6:8).
Remember what God knows. Everything. Even you. Even your deepest needs. Even your smallest needs. As you walk toward a new year, be confident that God knows your every need. He's not waiting for you to trip, or fail, or run out of what you need. He is ready to provide. Ask Him.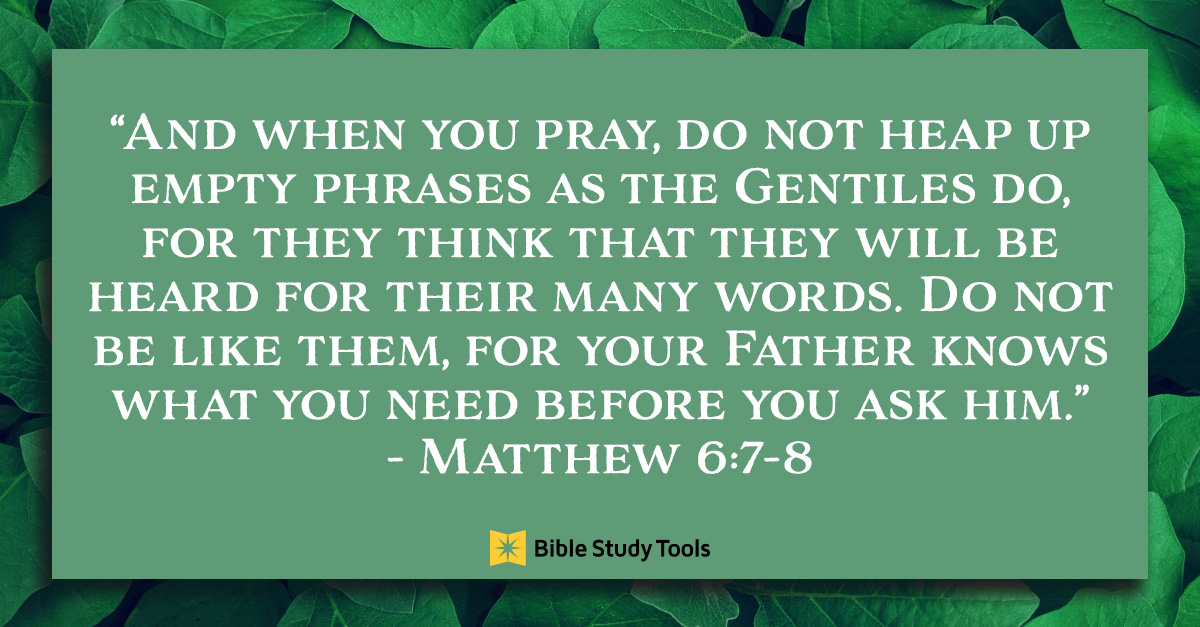 Photo credit: SWN/Bible Study Tools.com
10. God Is Always on Time
"Wait on the Lord; be of good courage, and He shall strengthen your heart; Wait, I say, on the Lord!" (Psalm 27:14).
You might be in a rush to see God do amazing things. But God does not rush. His timing is always perfect. There is great comfort in knowing God will work things together for good when He knows it is a good time. He is not late. He is not early. He is always right on time. Always faithful. Never fails. Trust Him. Put your hope in His hands this year and wait for Him to do amazing things only He can do.
We have hope. It is not hope we can see. But hope we can feel it. It's faith in action that says, "I know my God is able."
Related articles
10 Beautiful Verses to Remind You That God Is with Us
5 Comforting Verses to Reaffirm God's Grace
20 Verses to Tell You How Beloved You Arehttps://www.youtube.com/embed/RRFd_w7RfIw
Photo credit: Unsplash/Nathan Dumlao
---
Micah Maddox is a women's event speaker, Bible teacher, and author of Anchored In: Experience a Power-Full Life in a Problem-Filled World. She is passionate about helping women find purpose, peace, and calm in our chaotic world. Micah is on the Proverbs31 Ministries First5 Writing Team. As a pastor's wife and mother of four, she contributes her time to her family and local church serving as a women's ministry leader. Micah loves to give a voice to hurting hearts and writes and speaks to the one who needs encouragement. You can connect with her at micahmaddox.com or on YouTube. You can find her book here.